Subscribe for updates about upcoming retreats
LIFE IS LIVED BETTER SLOWLY
​
THE HEART:
Our intention is to explore this magical Greek island while diving into daily practice of Vinyasa yoga integrated with the practice of Myofascial Release which will
transform your energy and your flow
. We invite you to join us to heal yourself from the inside out, to do something just for you, and to learn to release the energies that are blocked within us and create a positive energy shift in your life
.
Come away with optimized body function and feeling deeply restored!
Discover Transformation and Rebirth
as we
Re-align
with our essence and flow.

​This retreat is a space for you to immerse yourself with the local culture and experience the
Greek way of living.
..
Slowing down and being present in the moment.
We will slow down, connect, laugh and enjoy the simple pleasures of all that Greece has to offer. We are here to bring you home to your
"roots"
within yourself, as well as, share the warmth and hospitality that one can only experience in Greece!
​
THE MISSION

:
Our bespoke, eco-friendly retreats will take you on a journey of self-discovery providing transformation, release, relaxation, balance, perspective, vibrance and deep exploration without and within.
​
Build authentic community in daily practice, experience personal awakening through presence, and discover
cultural experiences combined with the healing power of nature. Our retreats always contain creativity, laughter, fun and wisdom. All levels of experience are very welcome.
Just Imagine...

Escaping to a place where you feel immediately at home. On a breathtaking hilltop, high above the tranquil sea, you are welcomed like family and taken care of as a cherished guest. We are overjoyed to return to the

Cycladic island of Andros, simple, quiet, & unspoiled.

Our retreat takes place in private, villas in one superb complex, overlooking the beautiful crystal blue Aegean sea. This

eco-friendly

island, consisting of beautiful beaches, hiking trails, unspoiled landscape, and the warm hospitality of the local people, offers us the perfect setting for both adventure, relaxation, and returning to our oneness.

Join us and Discover Your Slow Moments!
What to Expect
​
Renew your senses
and
feel captivated by your life!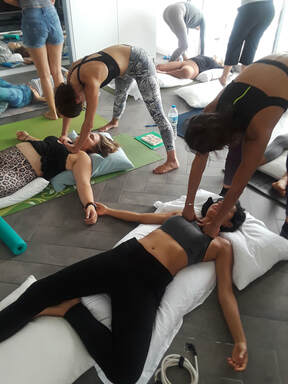 ​​
​This
Eco-friendly
retreat will be full of dynamic Vinyasa Flow yoga, Myofascial & Self Release workshop/learning, replenishing time in nature, tasty farm to table cuisine, and a community of travelers all called to revive and replenish their souls on this charming island. Discover your true power of healing and transformation combined with lazy beach days, sacred monasteries, downtown strolls, and
soul-reviving
hiking trips, where Andros island's ethereal nature invites you to unwind and
let yourself simply be.
Return home
feeling
whole and
Awake.

​
We'll practice yoga daily, with Vinyasa and Myofascial classes in the morning and daily Yin yoga in the evening. We will learn "hands-on" techniques and self-release tools to take home with you for your own daily practice.
All classes will be practiced outside on one of our beautiful terraces, overlooking the blue Aegean sea. We may take our mats one day to the nearby beach for a gentle practice. After our classes and meals, you have free time to relax, explore, or take part in optional excursions.
---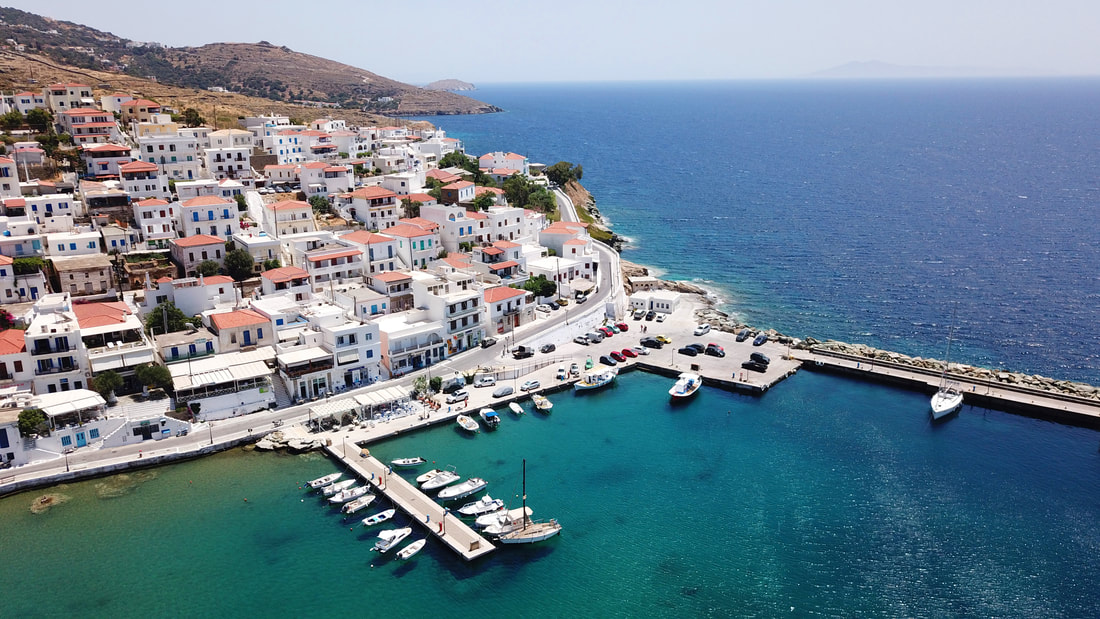 There is usually one dedicated "excursion day" in which we do not have scheduled yoga classes. This is a day for people to take advantage of some of the more involved excursion offerings and is always a lot of fun! During optional excursions, you will have the opportunity to meet the locals and immerse yourself in the Greek traditional way of life.
We're completely flexible... No waking up at dawn, no strict rules on food and drinks, and you can spend time with the group or on your own – most people do a bit of both. Our groups are normally 15-20 people from all over the world, and we create a warm friendly atmosphere so everyone feels welcome from the start.
​All registered Yoga teachers with Yoga Alliance will receive 10 Ceus. All NJ Physical Therapists, PTAs and Massage Therapists will also receive 7 CEUs such that you will have one full day of class (the day will be determined at the beginning of the retreat).
Release & Realign In Greece at The Island of Andros
​
Andros, the northernmost island in the Cyclades, is a
rare, unspoiled and quiet island
in which you will
experience authentic Greek culture and hospitality
. A true gem amidst the Aegean, due to its natural beauty and its untouched timelessness. This is a perfect eco-friendly destination to reconnect with nature and the sea. Shy of mass tourism, enriched with crystal blue beaches, a network of hiking trails, and an understated beauty, all awaiting for you to savor the moments and enjoy the slow life!

Andros, is the
quintessential Greek island
, sophisticated yet rustic, mountainous yet beach-lined, and nautical yet agricultural. The island is rich in spring waters...green, lush, and fertile, but also lined with great barren, rugged mountains. The hillsides are terraced with scattered farmsteads, orchards and vineyards....oranges, lemons, figs, grapes, and olives all proliferate. The island is rich in traditional white washed villages, ancient monasteries, and isolated beaches along the coast; archeological sites from the Byzantine period to the Hellenic are still today very well visible. The people in Andros are welcoming and happy, living a slow life following the rhythm of the sea. Andros, is a calm sanctuary that takes pride in its traditional way of life.
Come u
ncover the secret wonders of Andros with us!
​
"
Andros is a lesser-known Cycladic island full of adventure, activities, and epicurean delights. It offers the slower pace and potential for serendipity that many busier destinations have gradually lost.
"
- VOGUE, September 9th, 2016
Accommodation
​
Our beautifully Greek designed villas, are nestled on the mountains and have a panoramic view of the magnificent blue Aegean sea. They are located in an incredibly peaceful area of the Greek isle of Andros, near the capitol of Chora. The cluster of villas sits on a hill above a secluded beach, take a walk down the property and jump into the crystal waters.

​Every room has simple, elegant decor and everything at our villas is aimed to enhance the culture and natural beauty of Andros. No two rooms are the same and all are booked on a first come first serve basis.
Originating from Andros, our host, Maria, will be your local guide for the duration of your stay. She creates bespoke retreats, workshops, and events to explore and discover more about the eco-friendly island of Andros. She will be their to ease you into the rhythm and patterns of everyday local life, as you journey through wonderful landscapes, uncover the hidden corners and share authentic encounters with local people along the way.

​We give you time to relish delicious, traditional, local cuisine at family run tavernas, and relax in local, Greek style villas, where you receive the warmest of welcomes. We are looking forward to having you here!
​
​
Pack your suitcases, we'll take care of the rest!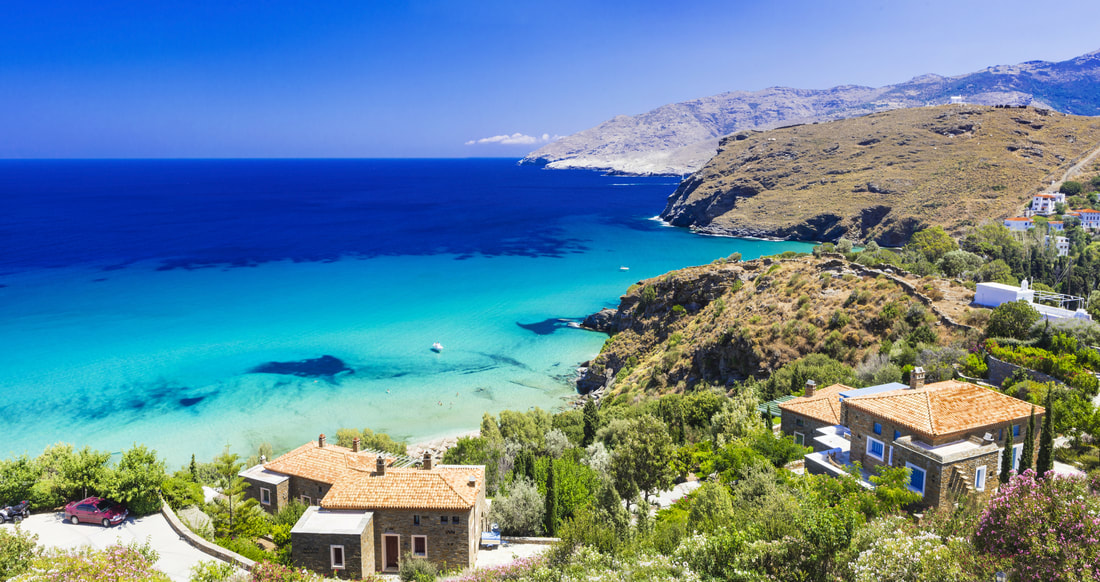 EARLY BIRD DISCOUNT:
SAVE $200 WHEN YOU BOOK BEFORE MARCH 15, 2019
Book One of The Dates Below & Use Code: EARLYBIRD
Maria Alfieris, PT

Physical Therapist,

Myofascial RELEASE Master

, and Reiki Virtuoso

Maria Alfieris, who loves to return to her Greek Roots, is a masterful teacher and powerful leader with a joyous spirit and open heart. She builds community and connection wherever she goes. She sees the best in her students and creates the space for them to see it too. Maria is down to earth and her humor sets the stage for easy learning. Her students trust her and take their learnings off of their mat and into their LIFE.

CONNECT WITH ME:
Phone or WhatsApp: 732 740 5659
E: marinabee@aol.com
​Instagram: Magical Hands Physical Therapy
Larisa Remi

​

RYT 200 Yoga Instructor

Larisa has had a passion for all things in fitness and wellness for as long as she can remember. Wanderlust, fun, adventure and positivity are guides in her life. As a dedicated teacher, Larisa creates classes that allow people to feel at home in their body, while providing space for them to become stronger, healthier, more attuned to life, and more connected to their self. She teaches an eclectic blend of styles: Hatha, Vinyasa, Ashtanga, Yin and Gentle Flow. Her classes are playful, dynamic and genuinely heartfelt. Larisa's teachings emphasize moving fluidly and safely, with a strong understanding of anatomy and incorporate her knowledge of breath work, mediation, and Yoga philosophy. Larisa attained her 200hr RYT Certification at IMAY, Mexico and 200hr RYT Certification at JP Centre Yoga, NY. She hopes that each person who leaves her class finds strength, nourishment, and balance, as well as the wonder of life within and around them. She is currently completing her holistic nutrition certification and holds a certificate in juicing. She also is looking forward to sharing her beliefs and views on how certain foods heal our bodies.

Instagram: @

feelingoodisthework
Emily Pareti

RYT 200 yoga instructor

Emily Pareti always loved being active - flexibility and balance came naturally to her after growing up as a dancer, gymnast and cheerleader. Emily's love for yoga started in 2014, after moving to Hawaii from NJ with her high school sweetheart. She started learning from YouTube, then fell in love with yoga on the beach, Bikram Yoga and eventually Vinyasa Flow. Emily is a two-time cancer survivor who found the healing power of yoga in 2017 during her Hodgkin's Lymphoma relapse. Yoga not only helped with the physical side effects of treatment, but also allowed Emily to release anxiety and find a Mind-Body-Spirit connection. She loves to share the gifts that yoga has offered her and to help each person find their own path to this joyful practice. She looks forward to helping others heal through yoga. Emily is known for storytelling, her inviting smile, and her willingness to allow each student to come just as they are. Each class is an invitation for self nuture, for laughter, and an opportunity for pause. Emily completed her 200-Hour Yoga Teacher Training at Honor Yoga in North Brunswick, NJ. She identifies as a Vinyasa Flow teacher and also finds relaxation and health benefits in Yin and Gentle Flow.

Instagram: @

Emilypareti
On paper, Maria is a Physical Therapist, a

Myofascial Master

, and a Reiki Virtuoso.

​She brings her gifts and talents of healing thru Fascial Release which she has been teaching for 34 years. She has given a series of courses in Myofascial Mobilization and incorporates into her work the understanding of emotional causation of disease and dysfunction. She specializes in teaching her students to

Release Fascia

with their heart and hands as well as self release with foam rollers.

What her credentials don't tell you is that her calling in life is to help people stand in their own truth, release old patterns, and begin leading authentic and fulfilling lives. Maria's style for leading retreats is one that begins with the soul, moves through the heart, and elevates the individual.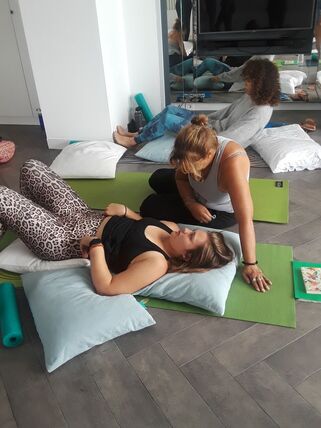 Through, "hands on techniques", she guides you toward freeing your fascia which helps you
release patterns of emotional & physical pain
that have been holding you back from reaching your full wellness potential.
​
Her healing workshops and one-on-one sessions are designed to blend her knowledge & experience of physical therapy, myofascial release, energy healing, and her spiritual trainings.

​Through healing past wounds, her students can then step into lives filled with peace, purpose and true fulfillment. Maria will facilitate the release of the false self which lies in the Fascia so the Emergence of your True Self (self-love) can take place.

---
Our
Yoga retreat classes
are designed to offer you a complete practice of strengthening and flexibility to feel aligned and connected. Our yoga classes will be a blend of Vinyasa,
Hatha,
and
Yin Yoga
. We will use specific
alignment
yoga practices
to improve patterns in the way we hold our body and creative sequences to become attuned to our energetic body. Each session will include asana, pranayama, and mediation.
​In our
Myofascial classes
, we will be teaching "hands on techniques" to learn to release fascia, in addition, we will also be using foam rollers for teaching Self Release.
Fascial Release,
is applying sustained pressure to our Fascial restrictions in order to
restore and enhance motion
,
eliminate pain,
and to
facilitate release
of the fascia. Maria will be teaching you "hands on techniques" on how to release fascia while in different positions and Yoga postures, as well as to Self Release with the Foam Roller in many different positions and Yoga poses.
Get ready to
Roll & Release
your fascia in this guided class using
self-release and gentle movement with foam rollers!
Our classes are 1.5 hour long sessions occurring daily in the mornings.
There will be some optional evening classes of Flow yoga and Singing Bowls as well as Sharing Circles.
* All practices are
open to all levels
from beginners to more advanced yogis.
Here's What the Myofascial Sessions Look Like
What are we eating!
Farm to table
...EAT, savor and treat your body to locally sourced Greek food and
organic
produce.
Our Andros retreats are catered by our
local private chef
, the best of Greek food, made to order and prepared with the
freshest
ingredients. We'll enjoy a light breakfast after our daily morning yoga retreat practice.
​
The morning breakfast menu will vary but may include: Fresh fruits, juices, eggs, yogurt & honey, local cheeses & breads.

Lunches will consist of local specialties and local vegetarian dishes. You can choose to eat inside or take your yummy meal outside on the patio.

Three dinners are included and the rest of the evenings we will dine in town.

​
​
Andros, is known for its traditional family-run tavernas that take special care in preparing their food using locally harvested ingredients and produce. And there's always something for everyone - from veggie & legume dishes, to fresh grilled fish and meat, fresh salads, and all sorts of Greek specialties and desserts.

​We don't have any rules when it comes to food & drink, and we don't have set menus. You can eat anything you like, and you can have an evening glass of wine or ouzo. We eat what we like, no restrictions.

All meals are based on a healthy
Mediterranean diet
, and we make sure that all dietary needs and allergies are taken into consideration.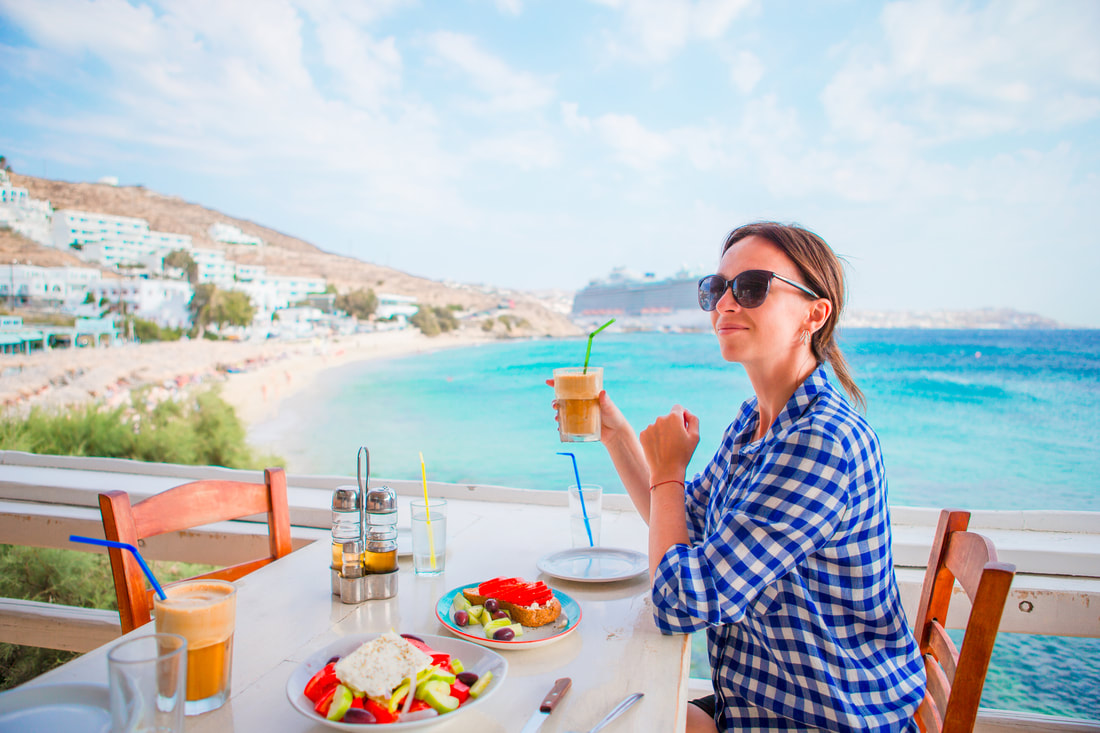 your retreat ticket includes:
7 island days/6 nights

1 daily yoga practice

1 daily Myofascial practice

2 Singing Bowl Classes & Sharing Circles

Daily breakfast & lunch, & three dinners

A beach day in one of Andros well hidden beaches

Greek cooking and/or Pastry demonstration

A stroll in the town of Chora followed by dinner

Happy "Opa" Yoga Hour featuring Greek Wine

Group pickup to and from Andros port upon arrival and departure

Guided support in completing your travel arrangements from Athens airport to Andros
​​
Optional Activities (Extra Cost):
​
Hiking Tours

Beach hopping

Day trip to Mykonos island

Olive Oil Museum Tour & Tasting

Water-sports: paddle board, windsurf, scuba dive

Explore Ancient Monasteries and Traditional Villages

Visit Local Producers: Organic farmer, Bee keeper, or Cheese maker
​​
Airfare

Alcohol

Tips & Gratuities

Car Rental

Travel and Health Insurance

Extra Excursions & Activities

Transfers to and from Athens to Rafina Port
​Daily Schedule*
​
8:00-9:30 AM Vinyasa Yoga Class Daily
9:30-10:30 AM Breakfast
10:30-12:00 PM Myofascial Class Daily
12:00-1:00 PM Lunch
1:00-6:00 PM Free Time
6:00-7:00 PM Yin Yoga Daily
Sharing Circles- Two Classes
8:00-9:00 PM Dinner
*Schedule is subject to change
Pricing
​
Single Accommodation

Twin Bed $2200 USD per person

Double bed $2500 USD per person

Queen Bed $2700 USD per person

Shared Accommodation

Twin Bed $1900 USD per person

Double Bed $2100 USD per person

Queen Bed $2300 USD per person
*Traveling solo, but don't want your own room? We're happy to pair you up with a same-sex roommate.
Early Bird Special Rate:

Book your retreat by March 15th and save $200. Use Code: EARLYBIRD

EARLY BIRD DISCOUNT:
SAVE $200 WHEN YOU BOOK BEFORE MARCH 15, 2019
Book One of The Dates Below & Use Code: EARLYBIRD
Payment Policy
​
​We currently accept bookings through WeTravel - please see the available dates (above) and click the "Details" button to reserve your spot.
​
Cancellation Policy
​
If you or any member of your party cancel your arrangements at any time, written notification from the person who made the booking must be received by email at philotimoretreats@gmail.com. If you must cancel your retreat, the required $500 deposit is non-refundable and non-transferable. Full refund, less deposit, will be given if cancellation is made 60 days or more before your retreat start date.

​Cancellations made 60 days or less, but more than 30 days prior, to the retreat start date can be applied to a future retreat. Cancellations made within 30 days of the retreat start date are forfeited.
Due to our need to commit to accommodation and other arrangements in advance, exceptions to our policy cannot be made for any reason.
Getting to Andros
​
Fly into Athens International Airport, Eleftherios Venizelos, commonly initialized as "AIA." From there, you will then need to take a ferry to Andros from the port of Rafina. The ferry ride takes approximately 1.5-2 hours.
*We will discuss ferry and airport transfer arrangements in more detail during our first pre trip meeting.
​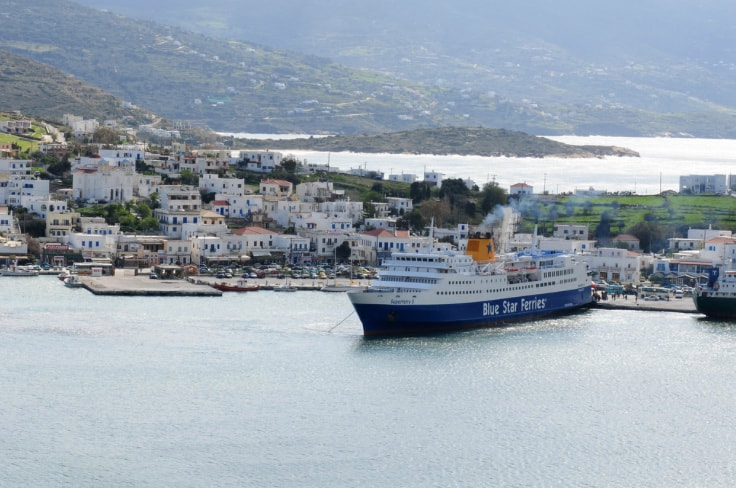 Travel & Health Insurance
​
Travel Insurance is required for all international yoga retreats. As we all know, especially as travelers, "life happens." Whether it's family, work, mother nature, or a change of heart, it is important to be prepared in case you need to unexpectedly change your travel plans. In addition to refunding your trip fees, it can also include medical evacuation coverage, medical expense coverage (remember that your USA based health insurance will not apply outside of USA) and reimbursement for lost, damaged or stolen luggage and personal effects.
Travel insurance that includes medical coverage is mandatory. Unfortunately, we cannot allow participation unless proof of travel insurance is sent to us before. We suggest that you include "cancel for any reason" with your policy. We recommend purchase insurance within 1-2 weeks after making your first trip payment (ie. flight or retreat reservation) to secure the best price and best coverage.
Compare Insurance Options at SquareMouth.com. We suggest this policy from Travel Guard or similar: Travel Guard- Gold(Protect Assist) w/ Cancel for any reason.
Read our Terms and Conditions Here.
About The Island of Andros, Greece
​
FAQ
​
What is Fascia?
​
Fascia, is the "butterfly net" that we sit in. It is the dense, covering system that catches all the emotional, physical, and spiritual trauma we endure throughout our lifetimes. Fascia, carries the diary of all our lifetime experiences. Fascia, is the
connective tissue system
of the body, that has an appearance similar to a spider's web. Our Fascia, covers and encases every muscle, bone, nerve, artery, vein, and organs. Fascia plays an important role in the
support and function
of our bodies, since it surrounds and attaches to all structures. In the healthy state, the fascia is relaxed, it has the ability to stretch and move without restriction. When one experiences physical , emotional or spiritual trauma, the insult lands in the fascia and the fascia loses pliability over time. It becomes tight, hardened, restricted, and a source of tension to the rest of the body.
When our Fascia becomes restricted, we can lose range of motion, experiencing pain and discomfort. Myofascial pain differs from other types of pain because it originates in "trigger points," which are related to stiff, anchored areas within the myofascial tissue. Some of the
healing shifts
that you will feel when experiencing Fascial Release: Emotional releases, decreased pain & inflammation, enhanced movement, improved immune system function, and releasing our blocked energy to "flow" again, as it works through the meridian system. Maria will be teaching you
"hands-on" techniques
to help you release patterns of emotional and physical pain that have been holding you back from reaching your full wellness potential. She's here to help you heal the issues in your tissues!
Do I need yoga experience?
We welcome yogis of all levels, from absolute beginners to advanced practitioners. Yoga retreats are not just for the yogi who practices every day and can touch the floor with their elbows. Our retreats offer opportunities for growth and new experience, no matter how much time you have spent on your mat. Regardless, we suggest keeping an open mind and trying out practices that might be new to you.
Can I go on a Retreat by myself?
​
Yes! Participants come alone and often come away with lifelong friends. If you're traveling alone, a yoga retreat is the best way to meet new people with similar interests in a safe and healthy environment.
When does the retreat start and end?
Please arrive by 6pm on Saturday, June 1st. We will have an included Welcome dinner at 8pm. The first official yoga class is on Sunday, June 2nd at 8am. Check out is Friday, June 7th.
When should I book my flights for?
If you want to join the group arrival airport transfer to Rafina port, please book your flight to arrive at Athens International Airport
Eleftherios Venizelos before 1:00 pm
local time on June 1st. Otherwise, you can book your flight to land at your convenience, but please arrange for your own transportation to Rafina port.
It will take 20-25 minutes to get to Rafina Port from the Athens International Airport.
If you want to join the group departure transfer to Athens International Airport, which will leave at 8:30 am on June 7th, book your flight to leave no earlier than 3:00 pm or arrange your own transportation to the airport from Andros.
​
How do I get to Andros?
Included in the retreat is a shuttle bus from the local port of Gavrio on Andros Island to the Villa. If you want to join the Included group Villa transfer, we will be leaving on the 3:15 ferry from Rafina Port in Athens or meet us by 4:30pm in Andros port. The only way to get to the island is by ferry from Rafina Port or other Cycladic islands with a ferry connection. The ferry ride from Rafina Port to Andros is 1-2.5 hours depending on which ferry line you take. If you are traveling from other Cycladic islands such as Santorini, Naxos, Paros, Tinos, or Mykonos, you can take a ferry connection to get to Andros. Once you register, you will receive complete information about the airports and the ferry options that will bring you to your destination.
What should I bring?
Please bring: yoga mat, sunscreen, comfortable clothes and shoes, sunglasses, hat, book, journal & pen, reusable water bottle, toiletries, cash, passport, flashlight, and a little sense of adventure! If you plan on going on a walking or hiking trip, please bring comfortable sneakers or walking shoes.
How much free time do we have?
Our retreats include a healthy balance between group activities and solo free time to relax, read a book, take a walk, etc. The days that we have outings planned we will go lighter on the yoga and we generally build in time for participants to go off on their own or simply stay at our Villa.
What is the weather like in Andros in early June?
Early June is one of the best times of the year to visit Greece. Air temperature is 70-80 degrees Fahrenheit and the water temperature is 70-75 degrees Fahrenheit.
When will I receive trip details?
Upon registration, you will receive a welcome message with general trip information. As the date approaches you will receive trip reminders and specifics relevant to your retreat.
Do I need to book my own flight?
You are responsible for booking your own flight. Each trip will have suggested arrival and departure details based on when we know you need to be in the airport and you can always send us the itinerary before booking if you want to double check it's correct!
How do I get from the airport to the Villa?
For most of our retreats, you are responsible for your own airport transfer unless stated otherwise. You can always request support booking your transfer and we are usually able to pair people up to share in the cost.
Do I need to rent a car?
If you want to go explore the island on your own, we recommend renting a 4x4 vehicle. This can be arranged thru your local host Maria.
What is the currency and where do I get it? How much cash will I need?
Greece's national currency is the Euro. The only cash you will need is for any additional food/drinks, transportation, or excursions. We recommend having some cash on hand while traveling, money can be exchanged at the Alpha bank at the airport or take money out of the ATM when you arrive at the airport.
Can I arrive early and stay late?
You will need to purchase your flights in order to arrive/depart by given dates and time ranges for your specific trip. If you choose to arrive earlier or later than given day/time you will be responsible for the cost of transportation needed to join up with the group. If you will be arriving early or staying later in Andros, you will need to make arrangements with our local host Maria.
Is participation in all yoga and myofascial classes mandatory?
All the yoga and myofascial classes are optional as this is your time to decide how you want to unwind. If you want to apply the myofascial classes to your continuing education through Yoga Alliance,
you are expected to be present for those classes.
Should I bring my own yoga mat?
Yes! Please bring your own yoga mat. If you prefer to use a strap or block you can bring those, but they are not required.
Is there cell phone service? and internet access?
Cell service is good on the Villa with international service.
There is also wifi at the Villa.
What is the electrical current and do I need to bring a transformer?
There are two associated plug types for Greece: C and F. Type C has two round pins and type F has two round pins with two earth clips on the sides. Greece operates on a 230V supply voltage and 50HZ. We suggest bringing an adapter if your electronics are from the US and/or do not run on the same voltage. All bathrooms will have hairdryers.
Is travel insurance mandatory? How do I purchase it?
Travel insurance for all of our international yoga retreats is mandatory. Unfortunately we cannot allow participation unless proof of travel insurance is sent to us before. Click here to visit Travel Guard's site and purchase your travel insurance.
​
Payment Plan



Please contact us directly if you are interested in payment plan. We want to make our trips accessible to as many people as possible and are open to setting up a payment plan in certain situations.
​